Metal roofs are a popular choice among commercial building owners. They typically cost less and with routine maintenance, they will function great for years. However, if they are not properly maintained, they can suffer from their fair share of common issues. A few examples of typical metal roof complications are:
Ponding water
Blow-offs due to high winds
Advanced age
Rust
Extreme weathering
Storm damage
Whatever the reason your metal roof needs repaired, know that your roof is in capable hands with Alley Capital. Call us today at 417-825-0286 so we can help you determine if your metal roof is in need of repair work.
Metal Roof Repair Solutions
Every metal roofing unit is unique and requires a specialized approach to correctly repair it. This is why our dedicated teams thoroughly inspect each unit before discussing repair work. After every inspection we will discuss all aspects of your current roof and the solutions that will best suit it.
A few key services we provide are: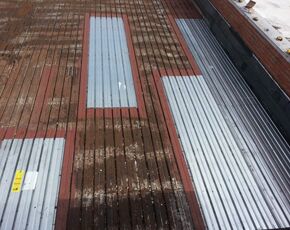 Leak detection and repair
Metal Roof Coating
Waterproofing
Maintenance programs
We will make sure that your metal roof is repaired quickly and correctly before those irritating leaks challenge the integrity of your entire building.
Customized Metal Roof Repair Options
For some roofing units, replacement is the only option. When a roof is neglected it will deteriorate and a total replacement is the only option. However, in some instances roofs are able to be restored with our roof coating system. Some of the advantages of our metal roof restoration system are:
Resists rust
Applied directly to existing metal roof
Protection from storm damage
Seamless, watertight membrane
Non-prorated warranties available
Reflects up to 85% of harmful UV rays
Lowers annual energy costs
ENERGY STAR ® certified
Eco-friendly option when compared to a total replacement
Adds years of life to current roof
And so much more!
If you are interested in learning more about how a roof coating can add years to your current roof while saving your money, please give us a call at 417-825-0286. Our knowledgeable staff would be happy to help.
Metal Roof Repair Estimate
If you have a commercial building that is located in Missouri or Oklahoma, give us a call today at 417-825-0286 so we can provide you with our one of a kind roof inspection. After which, our professional technician will present you with a detailed report listing the current condition of your metal roof and the necessary repairs to get it back to performing at its best.