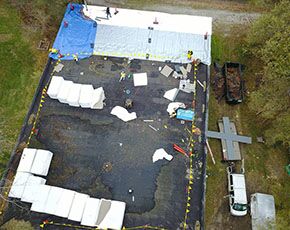 If you own or manage a flat commercial roof, you're not alone. Flat roofs are a familiar sight throughout the U.S. Most large industrial facilities – malls, warehouses, schools, hospitals, etc. – feature a flat roof. They're easy to install, cost-effective, and convenient.
Alley Capital, LLC is Joplin, Missouri's flat roof system expert, specializing in roof installation and replacement. Whether you're choosing a new system for a newly constructed building or replacing your current flat roof, the experts at Alley can help you make an informed decision about what system is right for you. Call us today at (417) 825-0286 to get started today.
All Your Flat Roofing Options In One Place!
There are many options to choose from when it comes to installing a new flat roof. The technicians at Alley Capital have spent the last 20 years working with all of them. If you are upgrading your flat roof or installing a new one, we can help you determine what system will best meet your needs, goals, and budget.
Here are some of the flat roof systems we offer: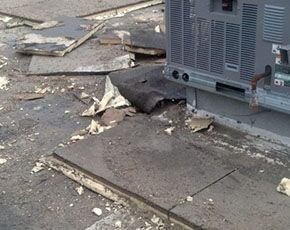 Rubber
TPO
PVC
Metal
Built-up
Modified Bitumen
Spray Foam
And more!
Project Financing Available
Replacing a commercial roof is a huge undertaking, practically speaking and financially. That is why Alley offers competitive payment options to our customers. We can help you break your project into affordable monthly installments, whether it's a $1,000 job or a $100,000 job.
All it takes is 3 easy steps:
1) Meet with one of our customer service representatives to select one of our customized payment plans.
2) Complete a short online financing request to get pre-qualified by up to 13 lending partners, all without it affecting your credit score.
3) Apply for your preferred loan and receive funding in as little as 24 hours.
Payment plans range from 2 to 12 years, with rates as low as 5.34% APR. Replacing a roof can be a stressful experience – with Alley, it doesn't have to be.
Call Today!
For exceptional flat roof replacement services, coupled with exemplary customer care, give Alley Capital a call today at (417) 825-0286. We provide free, no-obligation, no-pressure inspections and estimates. If your roof needs to be replaced, we'll tell you. If repairs or restoration will suffice, we can take care of that, too! We look forward to earning your business.