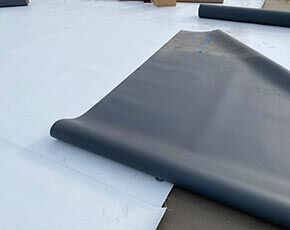 You can always count on Alley Capital to serve your roofing requirements with premium quality services. If you own a residential or commercial complex in Rolla, Missouri, and require commercial roofing services, call us at 417-825-0286. Our team of trained roofers will analyze your roof and figure out the ideal solution for you at economical costs. We will keep your roof healthy and make the business prosper!
We Offer Free Estimates!
Before we begin any work on your roof, we send a team of our experts to inspect the condition of your roof. We understand that customers need to estimate the prices associated with the particular roofing services before committing to one of our programs. At Alley Capital, we offer entirely free-of-cost roof inspections and cost estimates because we are confident that our prices are competitive and services supreme. Besides, we know that our customers trust our quality of services, so we have nothing to hide.
Our Services
Over time, we have developed strong expertise in roof repairs and maintenance services. Timely roof inspections are critical to helping you stay clear of roofing problems. With our quality repairs, your roof's health will remain intact for an extended period. These repairs will even prevent issues to your roof that might arise later on.
Apart from repairs, another one of our focuses lies in roof installation. Roof installations are an immensely complex task that requires an outstanding level of skill to carry out effectively. Failure to install a roof without mistakes can render the roof ineffective and require reinstallation. So you would not want to risk an installation at the hands of inexperienced workers. After we have completed the roof installation, you can be carefree about your roofing needs for a long time to come. Our roofers are well equipped to install a wide variety of roofs. So contact us today if you want any of our services.
Reach Out To Us
If you are still confused about Alley Capital and its services, contact us at 417-825-0286 to learn more about our programs from our representatives. We promise that once you hire us, you will forget about all your roofing concerns. As one of the leading commercial roofing service providers in Rolla, Missouri, we do not plan on disappointing you!