The roofing industry has grown rapidly over the past few years. Technology, innovation in tools and methods, and an influx of investments in the sector have led to increased quality and supply of services. While the overall standard of roofing services has increased, the abundance of commercial roofing companies means more chances of fraud and incompetent roofers.
Alley Capital is one of the most experienced and reliable roofing companies in Rolla, Montana. We take immense pride in our motto, "Done right or not at all," as we believe that a service should always and only be flawlessly executed. To learn more about our activities in Rolla, Montana, call us at 417-825-0286.
What is a commercial roofing company?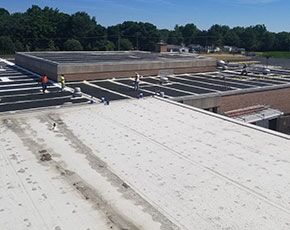 We need a professional commercial roofing contractor or company to perform roofing activities that ordinary laypersons cannot do. Performing a roofing service, such as repairing, installation, or even inspection, requires a lot of technical knowledge and experience. You will need a trained and specialized roofing expert from a roofing company to work on your roofing system successfully and effectively.
As the name suggests, a commercial roofing company is a team of experts dedicated to finding solutions to your roofing problems. A roofing company has the resources and expertise to be able to perform roofing services. What makes them different from construction companies is their specialisation and experience with roofs. A commercial roofing company can operate on almost any kind of project, be it garages, big warehouses, or huge buildings.
In today's age, it is pretty challenging to find a reliable roofing company. Unfortunately, with all the fraudulent firms scamming stakeholders these days, trustable roofing companies are rare. We suggest you check the online presence and reviews of a commercial roofing company. Learning about the roofing company's operational methods, products, and services is also a great way to understand what they are all about.
Why Alley Capital Roofing Services?
Alley Capital has been offering commercial roofing services for many years. Our team of professional technicians and experts is trained to operate in the most cost-effective and eco-friendly manner possible. Our methods of operations are of high calibre and meet the safety and quality standards. We offer leak detection, repair, replacement, inspection, maintenance, and insurance assistance. However, we mainly specialise in roof restoration and coatings.
Call Us Now!
To book any roofing service with Alley Capital for your property in Rolla, Montana, call us at 417-825-0286. Alley Capital is considered to be one of the best commercial roofing companies in the region.