Nestled in the heart of the Ozark Mountains, Branson, MO is a family-friendly destination with lots of LA-style attractions, exciting outdoor activities, and vibrant entertainment spots. The moderate weather here creates the perfect atmosphere and relaxation.
As long-time locals, Alley Capital Roofing is the leading commercial roofing company in the area and for years we have been providing professional roofing services to the business community of Branson. Our highly skilled roofing technicians are well trained, knowledgeable, and fully equipped to handle any roofing project.
We understand that peace of mind comes only with having a strong, healthy, and trouble-free roof over your head. That's why the team at Alley Capital Roofing will manage your roofing job as meticulously as if working on their own family homes.
Commercial Roofing Services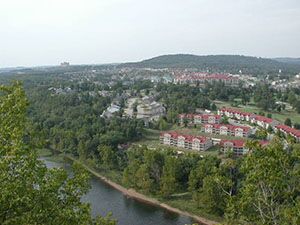 Alley Capital Roofing is the company to approach for ALL your commercial roofing needs. Our experts will give you a walk-through of our services and recommend a solution that meets your budget and needs.
Roof maintenance: When you have a full plate, even the simplest of roof maintenance tasks can throw you off track. We can help you maintain the look and performance of your flat or low-sloping roof. Our roofing experts will carry out maintenance tasks and address potential roofing issues that could lead to roof damage. Your roof will outperform and even outlast those of your competitors.
Commercial roof repairs: Roofs wear out with time, and the cause could be anything from old age, defective materials, or the elements. No matter what affects your roofing system you can count on the Alley Capital Roofing team to offer you a long-lasting solution. We will locate and seal leaks, replace damaged shingles, fix skylights, and repair gutters. We don't consider the job finished until you are satisfied the leak or problem has been addressed.
Roof inspections – Take the guesswork out of your next roofing job by determining the source of leaks. Our multi-point inspection helps uncover a myriad of issues that need urgent attention and reveals your roof's true condition. It takes a qualified expert to look below any obvious issues to identify potential risks to the subsurface below.
Coatings: Applying a new coating with a long life expectancy can add years to your roof's service life. Our affordable solutions can also stop leaks on your flat, pitched, metal, or tar-based roofing. Additionally, coatings eliminate leaks and improve your energy efficiency.
Roof replacement: When the time comes to replace your aging, weather-damaged, or underperforming roof, Alley Capital Roofing is the company to call. We will install a new roofing system that performs to your expectations and meets your personal and professional needs.
Most of our services are not disruptive to your business and operations. Not to mention that our solutions also deliver greater energy savings, better performance, and prolong your roof's lifespan without breaking the bank.
Are you ready to learn more? Call Alley Commercial Roofing today at 417-825-0286 to request an estimate or to speak to one of our roofing experts. We look forward to speaking with you soon about your roofing needs and how we can help you.